Instagram is one of the fastest growing social media platforms today, and with that comes great opportunities for brands, businesses and influencers. In this blog post, I will discuss how buying followers and likes can help you grow faster, and a few things you should be aware of as well.
With the increasing importance of establishing yourself on social media these days, you simply cannot forget about your Instagram presence if you are a brand or business. Instagram is one of the most popular social media platforms today, which offers big opportunities for those willing to work hard enough to produce results.
For several years, my team and I have been helping our clients, primarily startups and medium sized businesses establish themselves on social media, and help increase their outreach. Buying followers might seem like the ideal solution to archive instant success on Instagram. However, if you believe that you can simply just purchase followers and be an Instagram celebrity the next day, then you probably do not have what it takes to succeed in the first place.
Growing an Instagram account and gaining actual engaged followers takes time and efforts. So where does buying Instagram followers fit into all of this? To answer that, we first need to establish what actually encourages people to follow a specific profile on Instagram. Let us break it down.
What makes real people want to follow you – Explanation
To understand the fundamentals behind how buying followers and engagement can actually help you grow faster organically in the most cost-effective manner, you need to understand what makes actual people want to follow you in the first place. Let us take a quick look on what you can do right now to increase your odds of converting organic profile impressions, people who visits your profile, into engaged followers.
People wants to feel part of a community. (People are less likely to follow you, if you only have 50 followers. Buying followers and likes can help you establish authority very fast.)
Relevant content specific to their interests. (Find your niche, and try to stay within the same niche, so followers do not lose interest. If your niche is cooking related then do not post about your neighbours dog or something like that, unless it's a really cute dog of course...)
Post frequently. (If you only post once a month, you will quickly lose the attention of newly gained followers.)
Solve a problem for your desired audience. (If you do not solve a problem for your audience, or make them feel that you can provide something positive to their life, then why would they want to follow you?)
Also read: 7 Unsafe methods of growing an audience that you should NEVER use!
Things to look for when buying followers
There are many services out there promising you targeted followers based by country or gender and they will probably also tell you that they engage with your content. Unfortunately, these websites do not live up to their promises 99% of the time. Unless you have a budget of $2.000 or over, you really should not be expecting targeted followers, as no one can provide 1000 targeted followers for $20 bucks, it is simply not realistic.
So why buy followers then? As we just previously discussed, humans in nature wants to feel part of a community, so if you only have few followers and engagement, you will statistically have a harder time growing your profile organically from scratch. This is how buying followers and likes makes sense. It will give your profile a boost and make your growth process faster and easier, in terms of attracting new engaged followers.
The only factor to pay attention to is the retention rate, and overall quality of the profiles. SocialPlus provides high quality followers with an excellent retention rate, which means less drops, and they are high quality! However, there are many other low quality services out there that I have tried throughout the years, who literally delivers empty profiles, which will have unfollowed you again within the next 12 hours or less and you will feel like an idiot.
Also, do not bother about people scrolling through your followers list because the only person actually doing that is most likely yourself. About 99% looks at your follow count, posts and engagement and then determines whether you are worth following or not. Make sure that you solve a problem for your desired audience, and give them a reason to follow you.
Optimize your profile
When you have figured out what it actually takes to grow on Instagram, you stand in front of the next challenge of optimizing your profile to encourage people to click the Follow button. Here is a few things you can do to optimize your profile.
Add a profile picture that stands out, preferably with an eye-catching background color.
Optimize your bio and CTA (Call to action) link. (The bio is where you can tell potential followers what your page is about and why they should follow you. Adding a link to your website or YouTube channel is also important to increase sales. You can only add ONE link, so if you want to add more you should consider using Linktree.)
Optimize your name with the niche. (If you are in the fitness niche, you should change your name to something like "NAME – HEALTH & FITNESS" – as these are more searchable keywords.)
Make high quality content that helps your audience. (If you do not solve a problem for your audience, why would they follow you?)
Find relevant hashtags
Hashtags? Why bother you might ask.. People who do not use hashtags on Instagram should seriously be wondering what they are doing on Instagram in the first place. Unless you have millions of followers already (so your posts gets shown in the algorithms), you need to use hashtags! I always tell my clients that they should compare the importance of hashtags with such of Google Search keywords. Hashtags are the keywords of Google. It is how users discover new relevant content and interesting profiles to follow. Here is what you need to prioritize and search for, when looking for relevant hashtags.
Do not choose over-saturated hashtags. (I see this mistake a lot. You might think that using the hashtag #travel is an instant success – and it would be if you had enough engagement to rank for it, but most do not.)
Make sure the hashtags has activity and search results. (You do not want to target hashtags that people do not search for.)
Stay relevant. (Only use hashtags that are relevant to your niche and post).
Always make sure to use relevant hashtags, and set the location of your post also, as that is another search keyword. If you are at a beautiful beach in Malaysia, then make sure to set that as your location when posting. If you do not know how to find relevant hashtags, then you should try the free Instagram Hashtag Generator tool developed by the SocialPlus team, it helps give you insight on many different hashtags, whether or not they are popular or not, and how difficult it is to rank for.
Also read: Instagram Hashtags are the keywords of Google - Learn how to benefit from it
Using Power likes to rank your content
Once you have optimized your profile and have found relevant hashtags that has activity and are not too hard to rank under you are ready to start promoting your profile. It is also important to understand that the algorithm favors content by the number of engagement. You would want to rank your post in the "Top posts" section for the best results, and the more engagement you are able to get within the first hour of posting the more likely it is to show up there.
You can find top quality power likes from SocialPlus as well, we have been using their likes and views to help boost our clients engagement for a long time now.
Power likes – definition
Power likes are high quality profiles, often with their own followers, posts and stories who likes your content to increase the rank of your posts under the hashtags you are targeting.
Why use power likes?
You will not have a chance of ranking in the "Top posts" section of hashtags without them. (No engagement equals no visibility).
It will help you increase the organic impressions to your profile. Each new impressions is a new potential engaged follower.
Over time you will be able to build an engaged following a lot faster than if you had to start with no engagement, or followers. Eventually, once you have grown your profile with enough engaged followers, you can start doing viral contests ("Share with your friends") and similar.
Who should NOT buy followers?
Buying followers is not something that everyone should be doing. For example, if you just post some pictures of your cat or dog every now and then, you probably should not purchase followers in the first place as it will not really do you any good.
It's a known fact, that most people looking to buy Instagram followers for their first time, perhaps including yourself, believes that the followers will be engaged with your profile, buy your products, and maybe even recommend you to their friends. Let's be honest, no one can provide 1000 engaged followers for 20 bucks.. This is a known myth that I see a lot of people believing - but I'd love to live in that world though. 😜
However, that doesn't mean that buying followers and likes can't be beneficial for your profile and growth - you just need to understand the reason why so many successful brands and businesses choose to buy followers and engagement in the beginning of their journey. If it's done right, you can actually create organic growth, and attract real engaged followers a lot faster than if you had to start from nothing.
In this blog post I will discuss some cases where buying Instagram followers could be a good idea for your growth, as well as some other cases where you probably shouldn't do it. You will get an idea of how the Instagram algorithm works behind the scenes, the importance of having an attractive profile, and why so many artists and brands struggles to grow their profiles organically. I will also talk about how you can use SocialPlus to help grow your profile, in both short and long term.
Understanding the Instagram algorithm
To get an understanding of why so many successful influencers, and brands choose to buy Instagram followers and likes, we first need to understand how the algorithm of Instagram works. These metrics can pretty much be applied to any major social media platform these days.
The Instagram algorithm is built to make popular content more noticed. In short, this means that the noticed get more noticed, or, the popular becomes more popular. Makes sense right? This is in fact why most new profiles with small number of followers, and engagement struggles to gain the visibility needed to attract new real, engaged followers who actually cares about your content - this should be our long term goal, right? But the sad reality is that it's very difficult for new users to get their content shown to the more than 500 million daily active users on Instagram.
And it's for exactly this reason, that influencers, artists and others choose to buy followers, and engagement. It helps build up a following faster and easier. Yes, in the short term it might not seem like the most effective way, since the followers and likes you are buying, doesn't really care about your content - but, when you manage to increase your visibility, and have a more follow-worthy profile, you will see that it will become easier for you to attract, and get engaged followers over time.
I have been using SocialPlus to help boost, and grow my own personal projects, as well as my clients, ranging from brands, artists and influencers - to make their pages and community grow a lot faster, than otherwise would be possible if they had to start from 0 followers. Because who wants to be one of the first 25 people to follow a profile, right? Things such as human's social behavior also plays a role in this, but we will talk more about that later on in this blog post.
Can my profile get banned from buying engagement?
Short answer, no. There are a lot of myths going around, that your profile will be banned, or shadow-banned by buying engagement - this is far from the truth. To put this into perspective, in theory anyone could buy engagement for any profile they would like. So you may see how this is a bit tricky for Instagram to act on, because they can't actually know for sure, if it's the person behind the account doing it. So there you have the longer answer, if Instagram actually did ban profiles for buying engagement, you could just as well buy engagement for your competitors, and get them banned. It's not that easy though.
So as long as you're using a safe method to buy engagement, your profile will be safe. SocialPlus is safe to use, because it never asks for your Instagram account login details, so Instagram can't tell if it's actually you buying engagement. I have been using SocialPlus to help grow my clients profiles for a long time, and they are now ranking on hashtags, and driving lots of organic impressions as we speak.
However, while SocialPlus is safe to use, you should be aware of some other services, or tools for growing your Instagram profile. I can't stress this enough, but you should never use tools or services that asks you to login to your Instagram account, or tools that performs automatic tasks on behalf of your account, such as liking, comment on posts and stuff like that. Instagram can easily detect these automatic actions that those tools performs on your behalf, and knows that you're the one doing it, so stay far away from those kind of services!
Alright, now that we got that covered, let's move on to the next step to help you understand how buying engagement can help you grow organically.
Building an attractive profile
This is probably a no brainer, but having an attractive profile that people would want to follow is crucial for your organic growth. To understand the importance, let us do a quick example that you probably can relate to.
Imagine that you just discovered an artist on Instagram, but the person only has 10 followers. Without thinking about it, you will subconsciously ask yourself "Why should I follow this person, if nobody else does?". On the other hand, if the artist had more than 1000 followers, you would not be as hesitant to follow the artist as well. Why is this you might ask?
In short, it all comes down to human social behavior. Most people are afraid of being one of the first to do something, so if your profile already looks attractive, in terms of followers, engagement with your posts, and good content, then it will be a lot easier for you to build organic growth, and get engaged followers for your profile, a lot faster than otherwise would be possible.
One of the fastest ways to build an attractive profile, besides creating content, is to use SocialPlus to buy Instagram followers, likes and views.
A good example
Here is an example of an interesting profile, that actually makes you want to follow it. This specific profile has also been optimized, by using her niche in her full name, and by using a well though bio, which has a call to action link.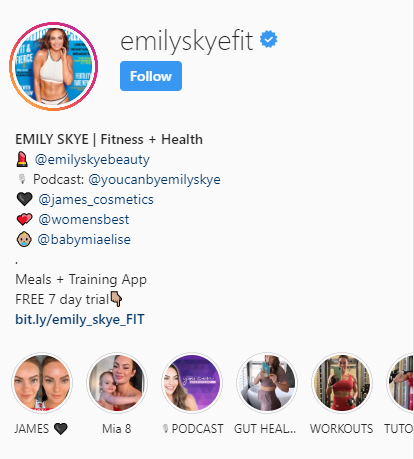 Increase your visibility and grow organically
There is nothing more important than organic growth, and followers who actually cares about your content, and engages with it on a regular basis. This is what we call engaged followers.
The fastest way to start growing your page organically is to increase your visibility on Instagram through hashtags and places. To increase your profile impressions, you need to focus on ranking your posts higher. This can be done by following the advice right here in this blog post, as well as buying Instagram likes and views for your posts, for increased visibility.
Should I continue to buy Instagram followers?
The strategy that I always recommend for my clients, and well, for myself, is to not go ("all in") on buying big numbers of followers. Your main goal should be to build an attractive profile, that people want to follow. Normally this would be around 4.000 to 7.000 followers for the campaigns that I run for my clients, and then I usually buy around 500 to 1300 likes per post, depending on the hashtags I want to rank for. My long term strategy is always to build an engaged following, so the profile can grow organically in the long term, with people who actually cares about the content.
By now, you should already be aware that the followers you buy won't actually engage with your content. The most important factor to look for, when buying followers, is that they will stick around for a longer period. SocialPlus usually delivers good results when buying followers, both in terms of the quality of the profiles, and the retention. Likes are also super high quality, which is a big plus!
So just to sum it up, our goal should be to build an engaged following, right? So I would recommend to no longer buy followers, when your profile looks attractive enough to attract new organic followers. Once you reach this point, you are better off focusing on creating quality, and helpful content, and using the Likes and Views to help boost your content, to make it rank higher under hashtags, places etc. If you manage to get in the Top posts featured section, that's where you will begin to see real results!
Study: 69% of Instagram posts aren't seen
Recent case studies shows that 69% of all Instagram posts aren't seen through searches, meaning hashtags and places. This is a pretty big percentage, but it shouldn't come as a surprise. As we discussed earlier in this post, the algorithm of Instagram focuses on promoting popular content, meaning that the popular get more popular.
This is why engagement with posts, and having an attractive profile is so important to brands, artists and influencers, or anyone else who wants to succeed with Instagram for that matter, as it helps boost your posts to appear higher in the results, thereby driving more organic impressions to your profile, and increasing your chances of success.