You may already be aware that some of our competitors have fabricated false "reviews" on a number of websites they control in order to make them seem genuine. This is done to discredit reputable and long-established sites such as SocialPlus and "recommend" their own services or those they earn money from.
Even worse, you risk being banned if you use the "Top tools" they suggest as alternatives, we'll explain why below. In contrast to most others, SocialPlus only uses the safest marketing techniques, and we have done so successfully since 2010.
In this blog post, we will show you how to spot these deceptive domains and debunk their claims so you can decide what is best for your long-term growth based on actual experiences.
Being in a competitive industry, we are not surprised to see someone play dirty when they are unable to compete with the quality and results SocialPlus provide for our customers.
Naturally, the majority of us look up reviews of a company before making a purchase to see what other customers have to say about them. The fact is that anyone can write what he or she likes online.
The person who owns this Private Blog Network (PBN) is based in Thailand and knowingly writes deceptive reviews about countless genuine businesses as a way to earn money through affiliate programs.
What is a PBN? In essence, PBNs operate by purchasing old, expired domains that are already authoritative and establishing a blog.
Let's have a look
A quick Google search for "SocialPlus reviews" will list most of these domains.
At first glance, it looks pretty trustworthy, right? Yep, you've got to hand it to this guy for the effort he put into it. 😄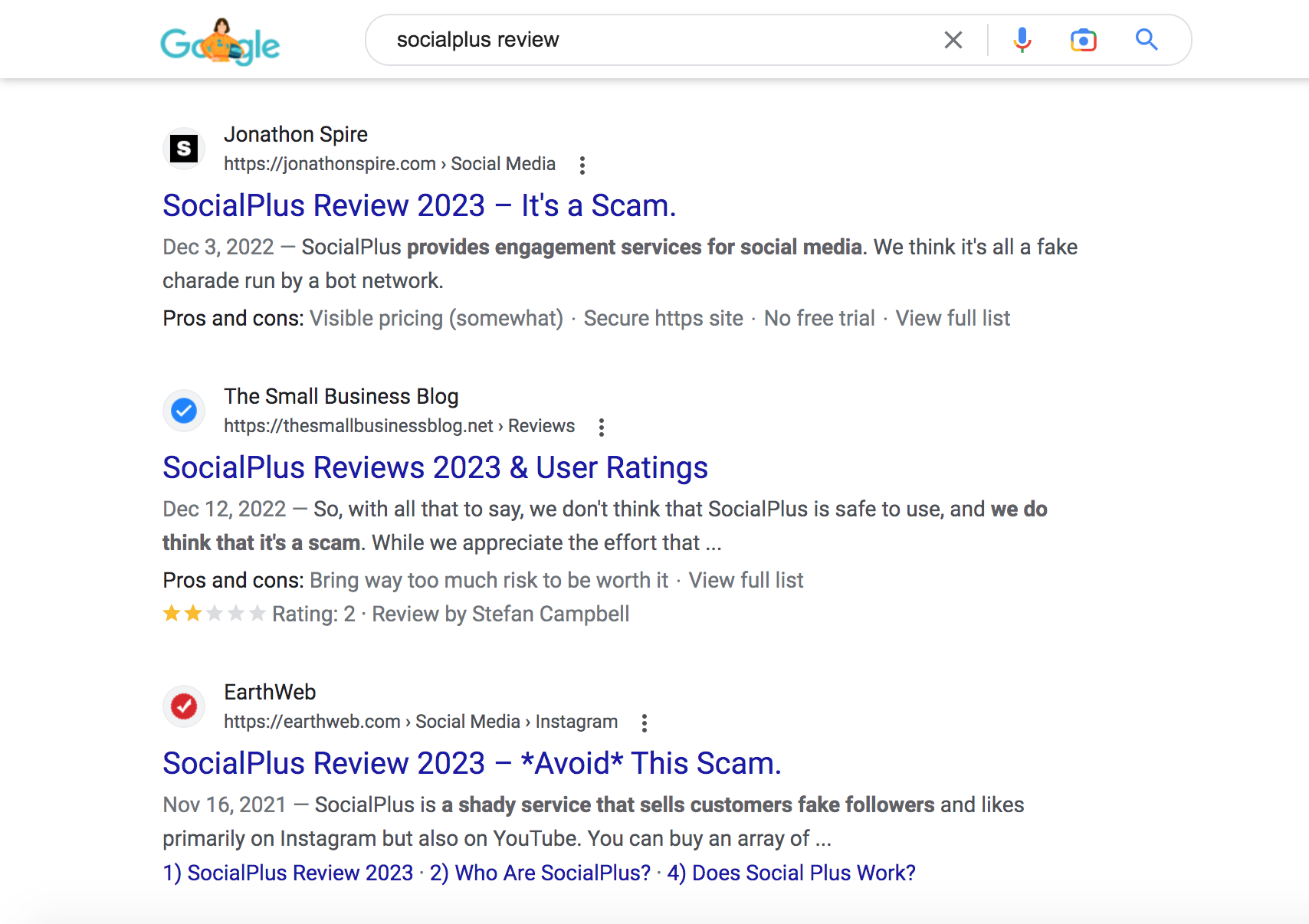 Pay attention to the following:
Update in 2023: The layout and services they recommend have changed a bit since we first shared this blog post in 2021, as most of their "Top Tools Alternatives" no longer exist due to obvious reasons.
They all have similar layout, pros/cons design, and exact same "recommendations".
They all "recommend" the same services (Useviral, Kicksta, Growthoid, Growthsilo, Stellation Media, Nitreo, MoreLikes) that they own, or earn commissions from. We strongly suggest staying away from these services as they can get your account suspended or banned entirely, but more about this below.
All has the same "Social share" sidebar.
All has the exact same URL page structure.

Quick Tip: Take a quick look at some of the websites they recommend as "the best" on Trustpilot, and you will be able to discredit all these untrustworthy websites in a few seconds. (Update 2023) Most of their profiles have since been deleted by Trustpilot.
1. bountii.com
Link: https://bountii.com/socialplus-review/
Archive Link: https://web.archive.org/web/20200914181219/https://bountii.com/socialplus-review/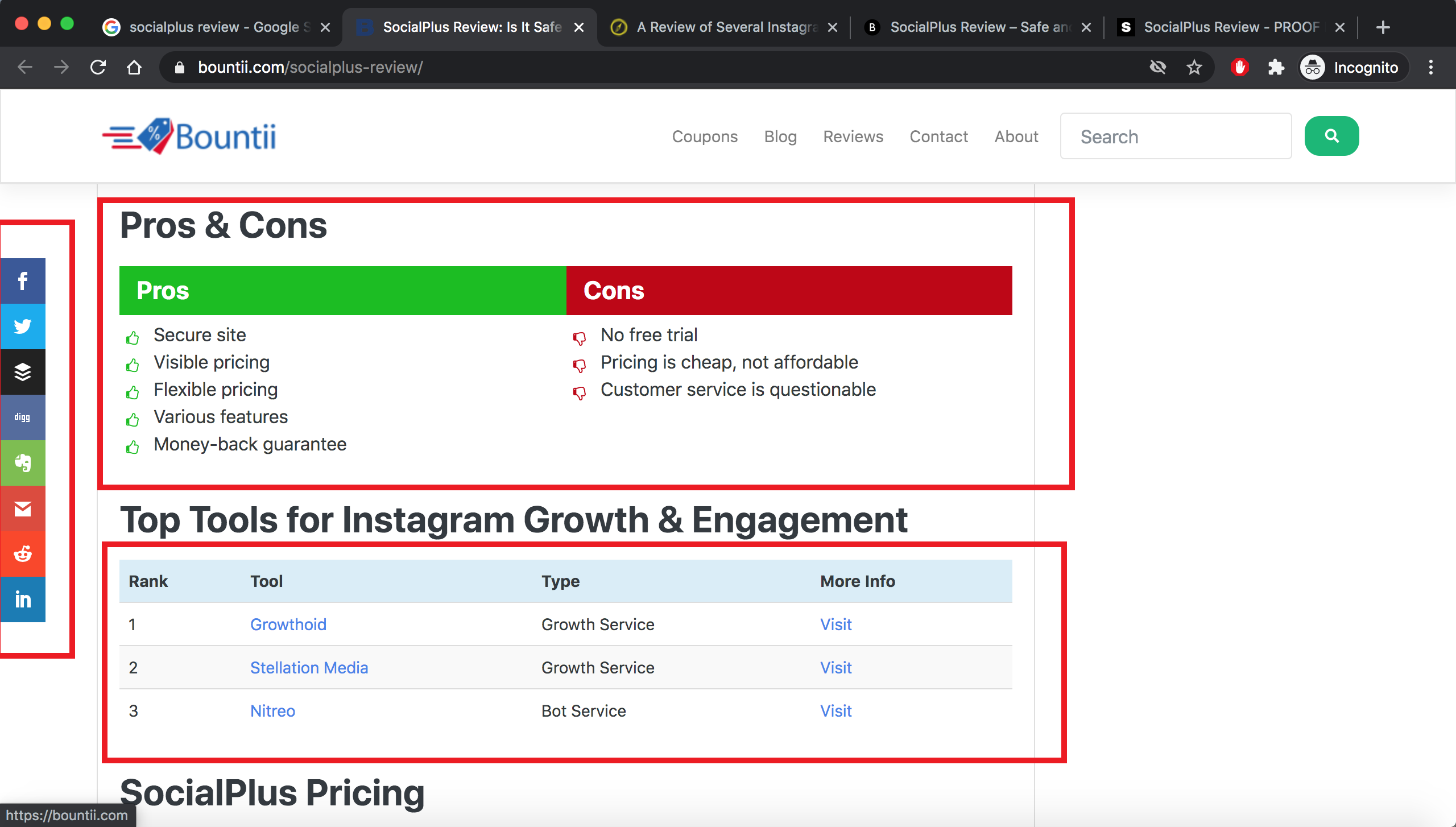 2. earthweb.com
Link: https://earthweb.com/socialplus-review/
Archive Link: https://web.archive.org/web/20210501074118/https://earthweb.com/socialplus-review/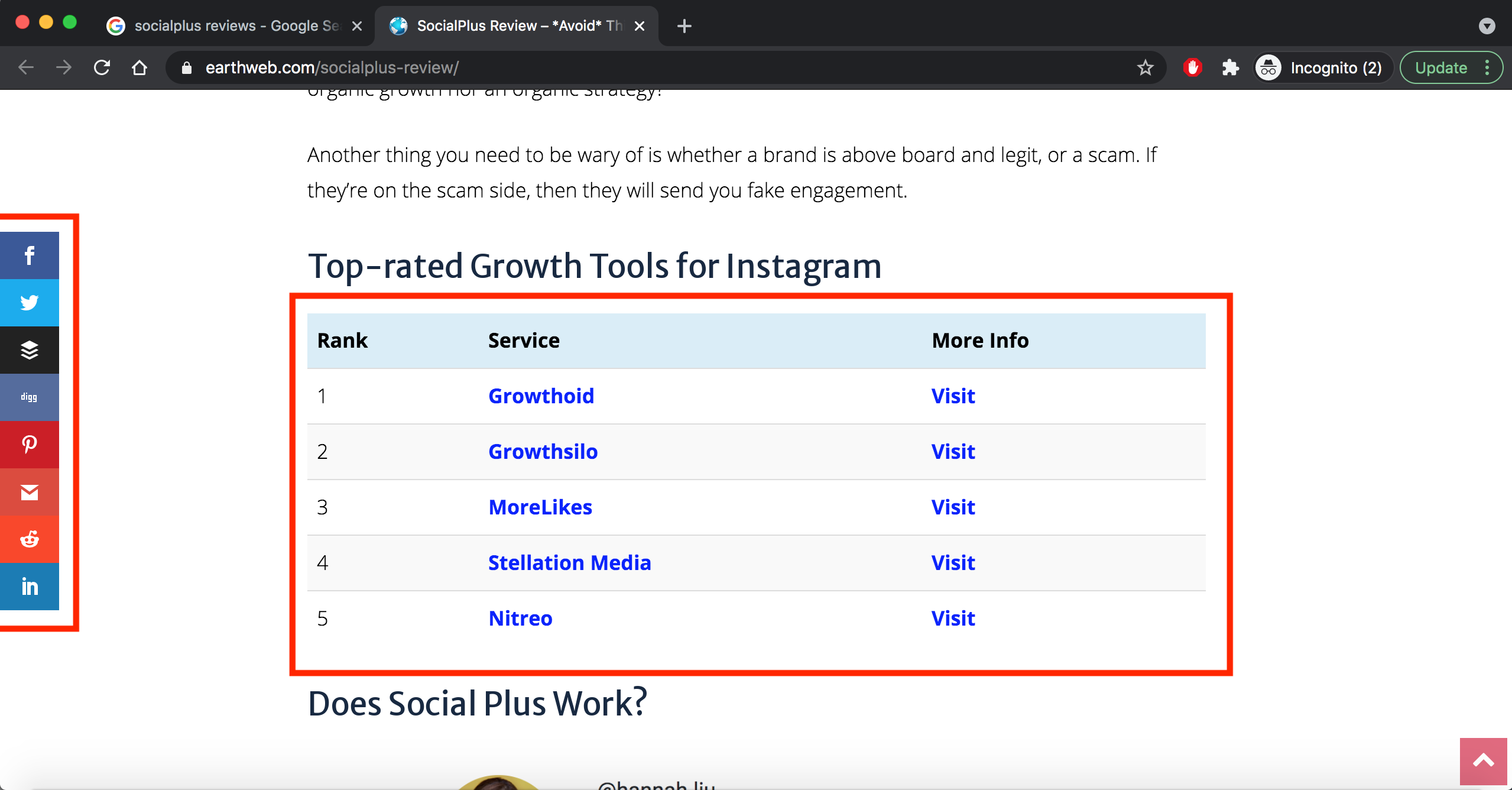 3. bumped.in (Now earthweb.com)
Link: https://bumped.in/socialplus-review/
Archive Link: https://web.archive.org/web/20200914181304/https://bumped.in/socialplus-review/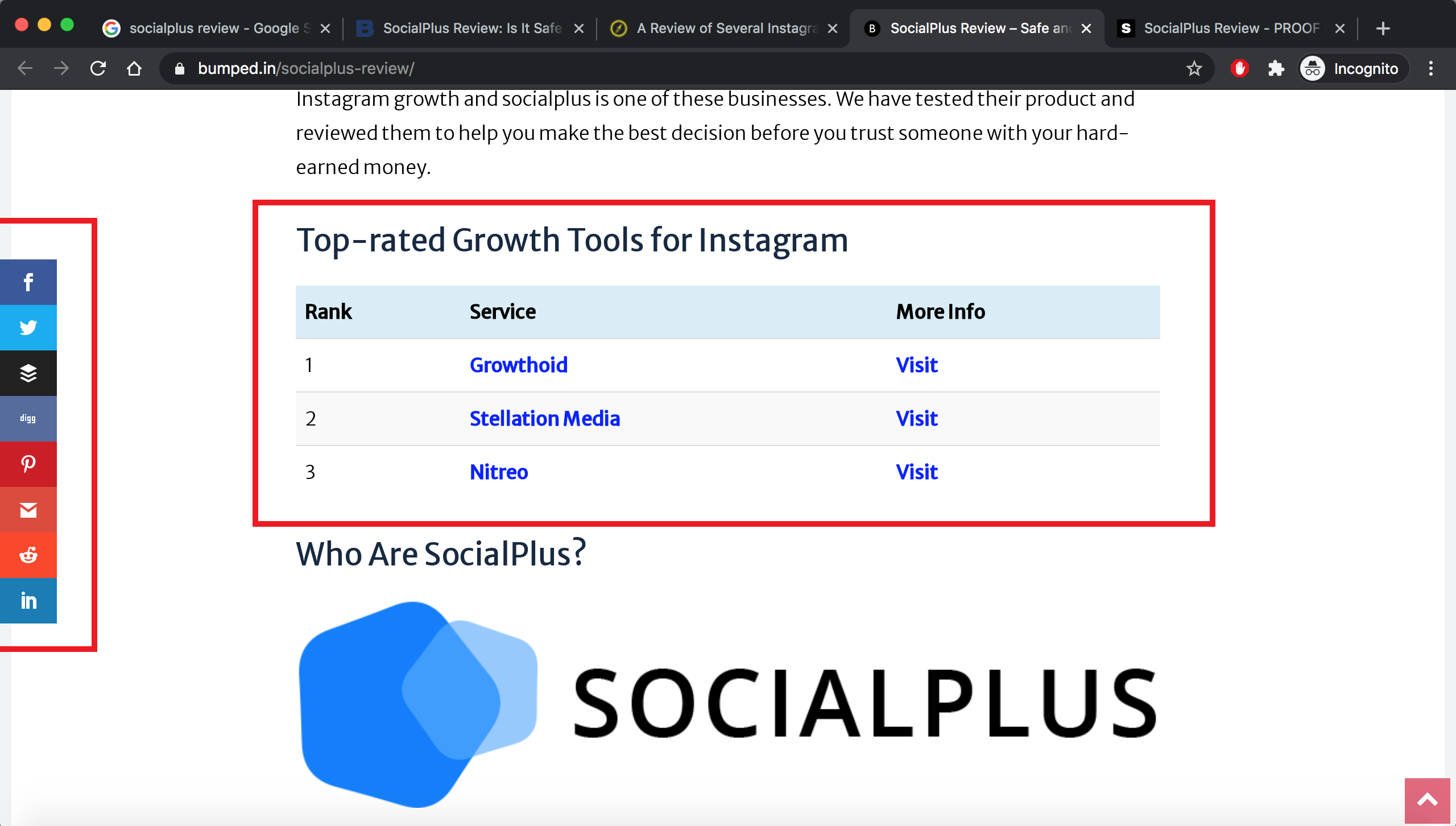 4. jonathonspire.com
Link: https://jonathonspire.com/socialplus-review/
Archive Link: https://web.archive.org/web/20200914181224/https://jonathonspire.com/socialplus-review/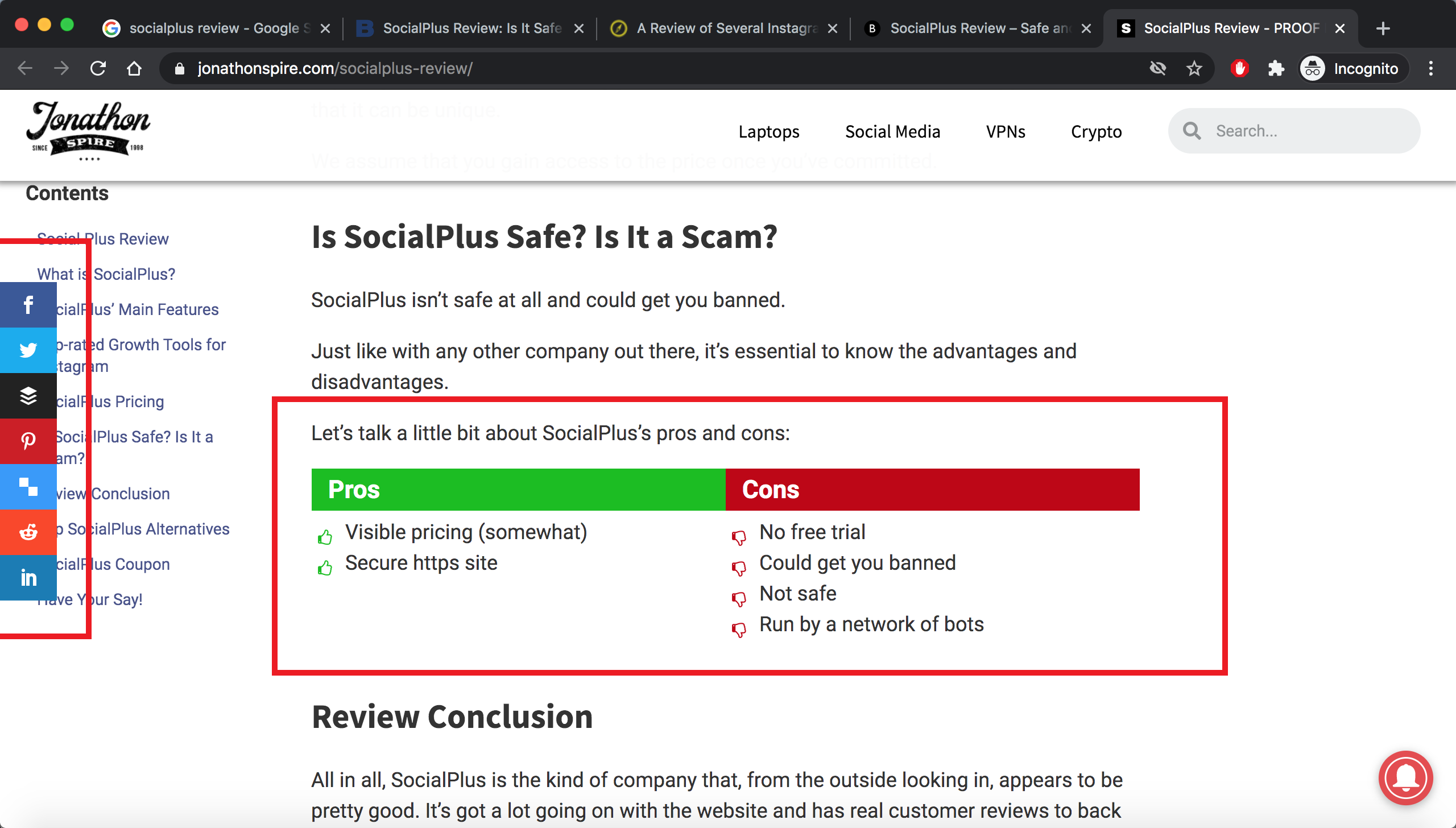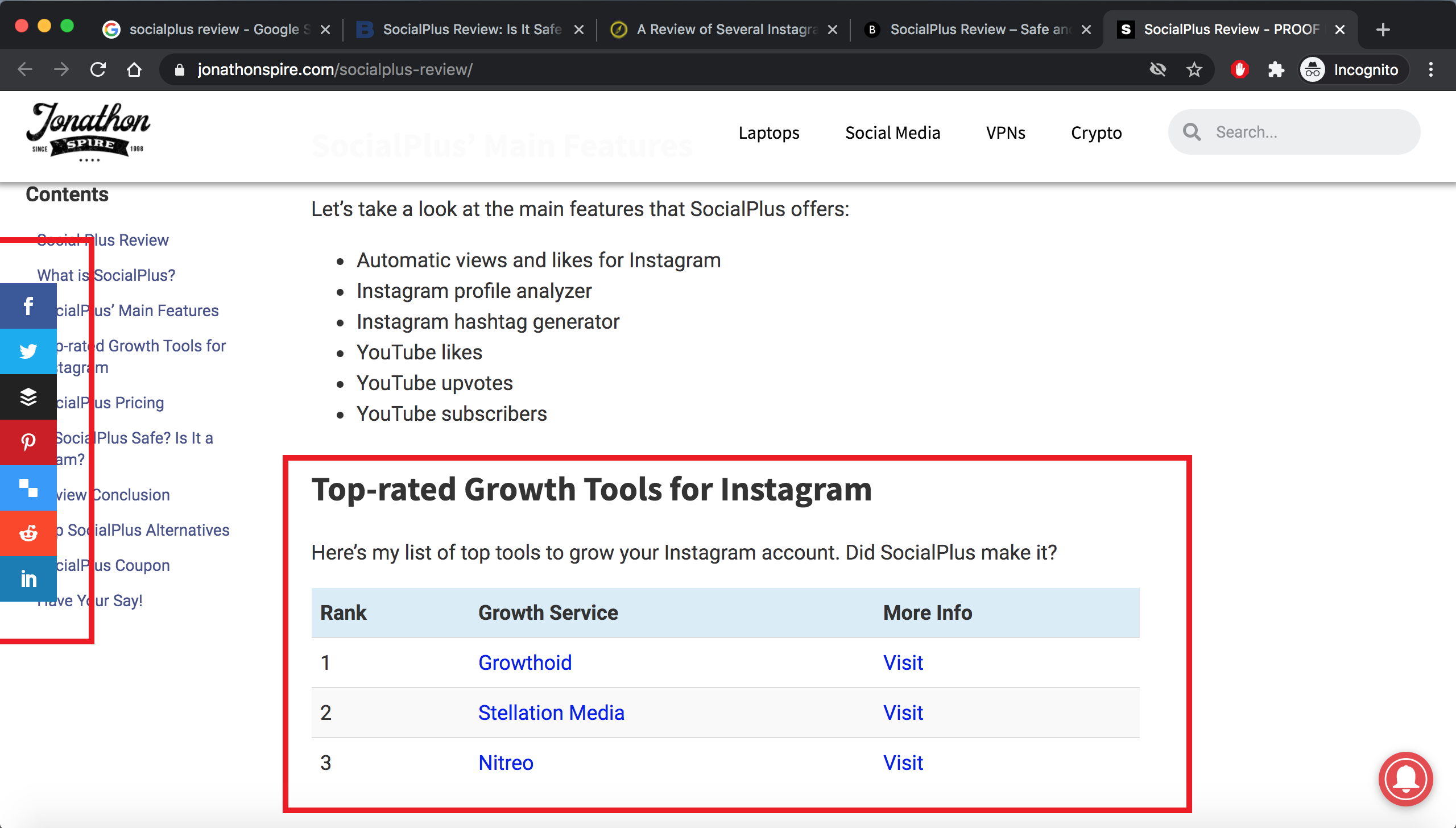 5. thesmallbusinessblog.net
Link: https://thesmallbusinessblog.net/socialplus-review/
Archive Link: https://web.archive.org/web/20201201215302/https://thesmallbusinessblog.net/socialplus-review/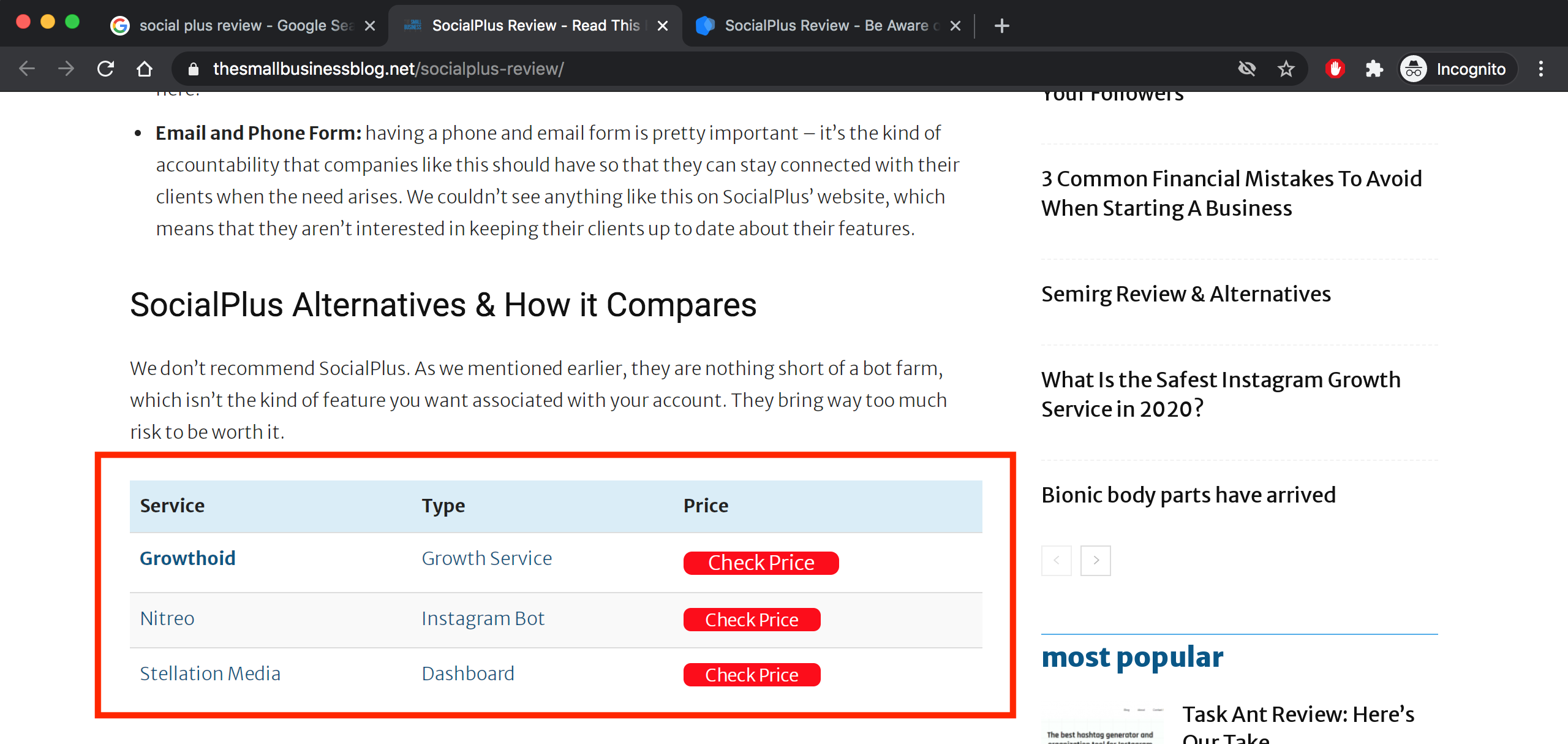 6. quantummarketer.com
And finally Quantummarketer, which is the primary domain that has existed longest. The owner of this domain is also the owner of the social growth service called Media Mister and now Growthoid.
Link: https://quantummarketer.com/buy-instagram-followers/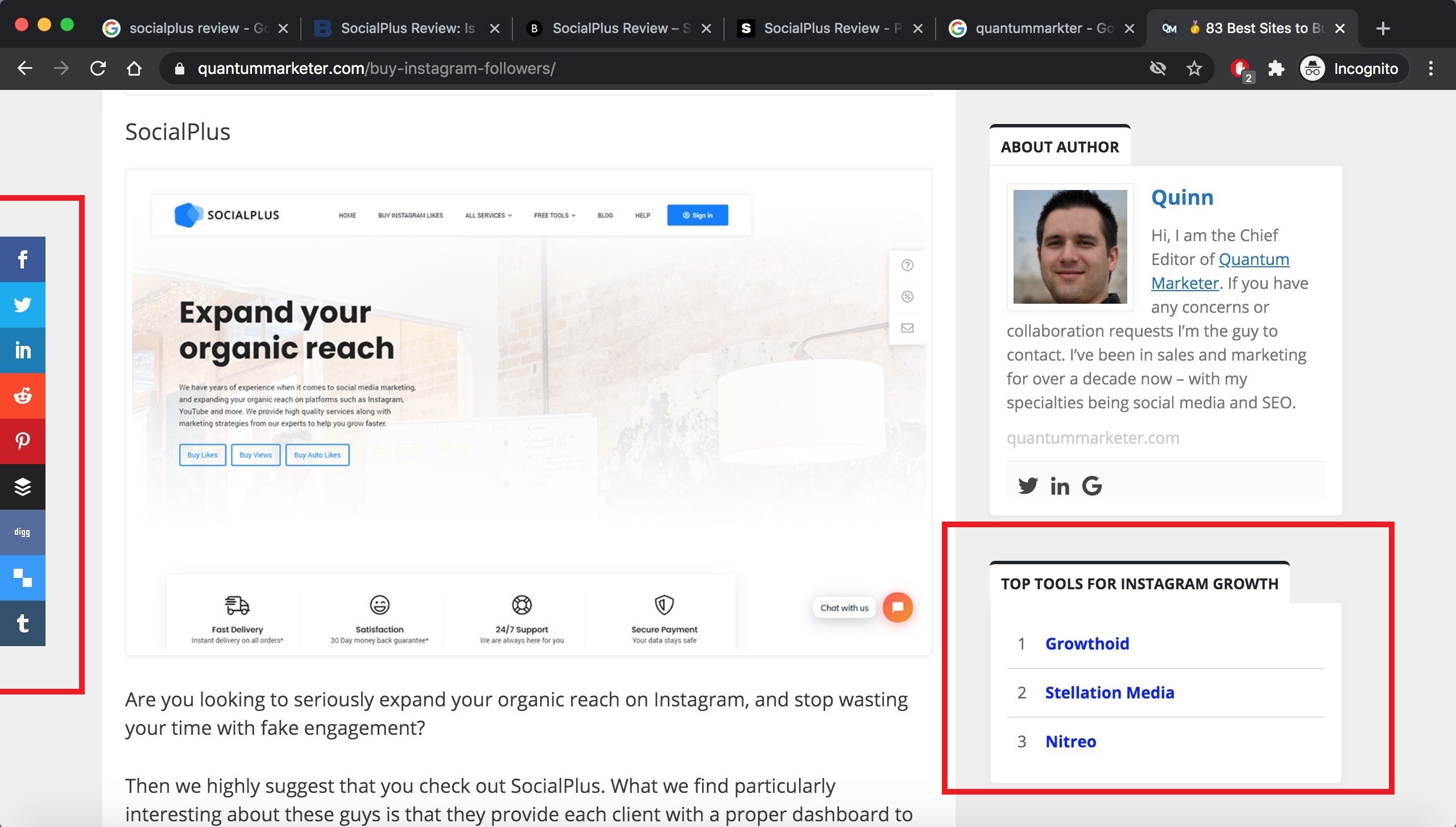 You can see that Quantummarkter also shares the same design, as the others, with the exact same recommendations and pros/cons design.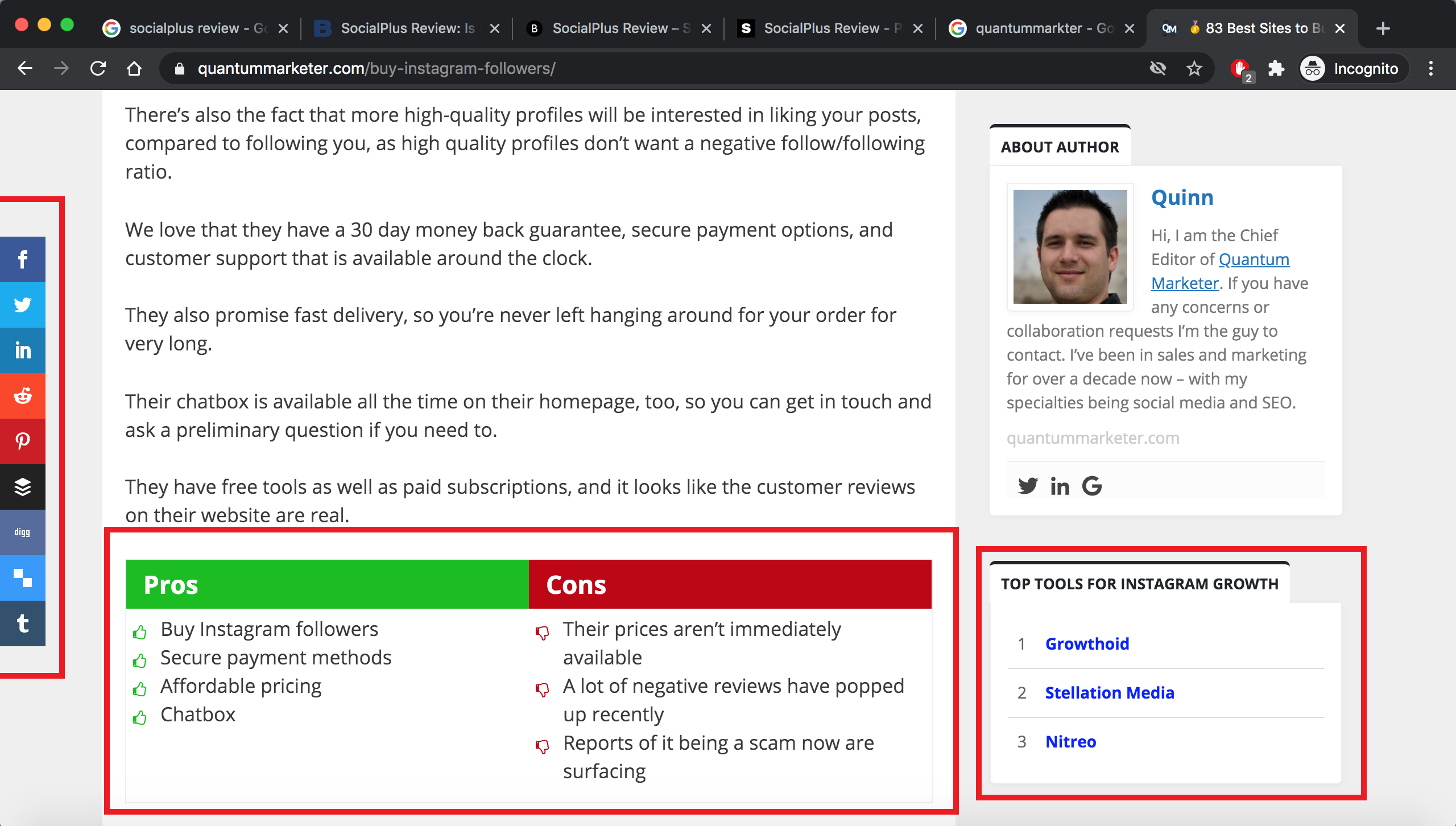 In doubt?
We don't blame you. After all, this is the goal of these misleading reviews and the owners of these domains and services. Their actions to use shady tactics such as misinformation to compete show their true character. We strongly distance ourselves from this.
Let's debunk their claims
1. SocialPlus is a scam
It is unclear what he mean by this. An educated guess would be that he included some ominous words like "scam" and similar phrases to frighten potential customers away.
All payment methods on our website are handled through reputable and long-established processors. We do not store or process sensitive payment details.
No sensitive payment data is input through our website – unlike most other sites.
On top of that, we offer the market's fairest refund policy. If we fail to complete your order, simply contact us, and we will refund the credits for the order back to your balance. You can always request to have your remaining account balance refunded back to the original payment method as well.
We have no interest in dissatisfied customers or users who don't understand the benefits of our services. Our many repeat customers say it all.
2. No free trial 🧐
Yet another unfounded assertion. This one had me laughing a bit. SocialPlus has offered a free trial for all new, genuine users for years and still does. It is literally advertised publicly on our website.


3. Instagram/YouTube will ban you
Nope. Through all the years of successfully helping our clients grow and beat existing trends in a cost-effective manner, not even a single customer of ours has ever reported anything like this. As long as you only use SocialPlus and no other risky third-party services, you will never jeopardize your Instagram or YouTube account.
Think of it this way: We will never need your password to deliver our services. This means anybody can use our services to promote any account or content of their choice, even yours. Instagram or YouTube would never ban or even "shadow-ban" someone for gaining more engagement.
If these rumors were true, you could simply purchase our promotions for your competitors, and poof, they would be out of your way. We all know this isn't going to happen.
SocialPlus will always be 100% safe to use. Those who say otherwise have no idea what they're talking about, or are trying to sell you something else.


4. Our engagement and promotions are from bots
SocialPlus has become well known for offering the market's best retention rates and the highest quality engagement, including follows, likes, comments, views, and more for Instagram and YouTube.
This helps you grow organically, as algorithms prioritize accounts and content with strong engagement. You can learn a lot more about how exactly SocialPlus works and how we can help you safely boost your growth and visibility on our homepage and knowledge base.
How we deliver safe promotions
When you place a new order, we promote your account or post on our promotion networks for the given service.
Furthermore, we do not control the users or their actions on our industry-leading promotion networks for Instagram and YouTube.
Calling the profiles who participate on our promotion networks for "bots" is wrong because most have posts, followers, and engagement on their own and are not under our control. However, not everyone uploads stuff to YouTube or Instagram, so the level of quality of each profile may vary.
For Instagram followers and likes we also offer a US/EU promo network. Additionally, we are always improving our promotion networks to ensure only the highest quality profiles have access.
We understand that most other sellers on the market offer very low quality engagement so finding a high-quality provider can be challenging. This is why we offer a free trial so you can test our quality and retention at no cost.
Conclusion
These are just some of the domains we have found at the time of writing.
Based on the above information, it would seem obvious to most of us that these articles are created with the sole purpose of discrediting their competitors and recommending their own services at the same time.
Actions such as this show us a bit about their way of doing business, which we strongly condemn and distance ourselves from.
We also strongly urge caution if you are thinking about trying their so-called "Top tools" such as Growthoid. All these pose a serious security risk to your account, as you will need to provide them with your Instagram account details. This is something you should never do!
You can learn more about why using Growthoid and similar services that require your login credentials can get your account permanently banned in the blog post below.
Also read: 7 Unsafe methods of growing an audience that you should NEVER use!
Don't believe us? Take a quick look at some of these genuine reviews of Growthoid on Trustpilot below.
Growthoid reviews
These are a few screenshots of customer reviews of Growthoid, which these misleading websites recommend as the "Top tools". Never share your Instagram account credentials with any third party! See more reviews.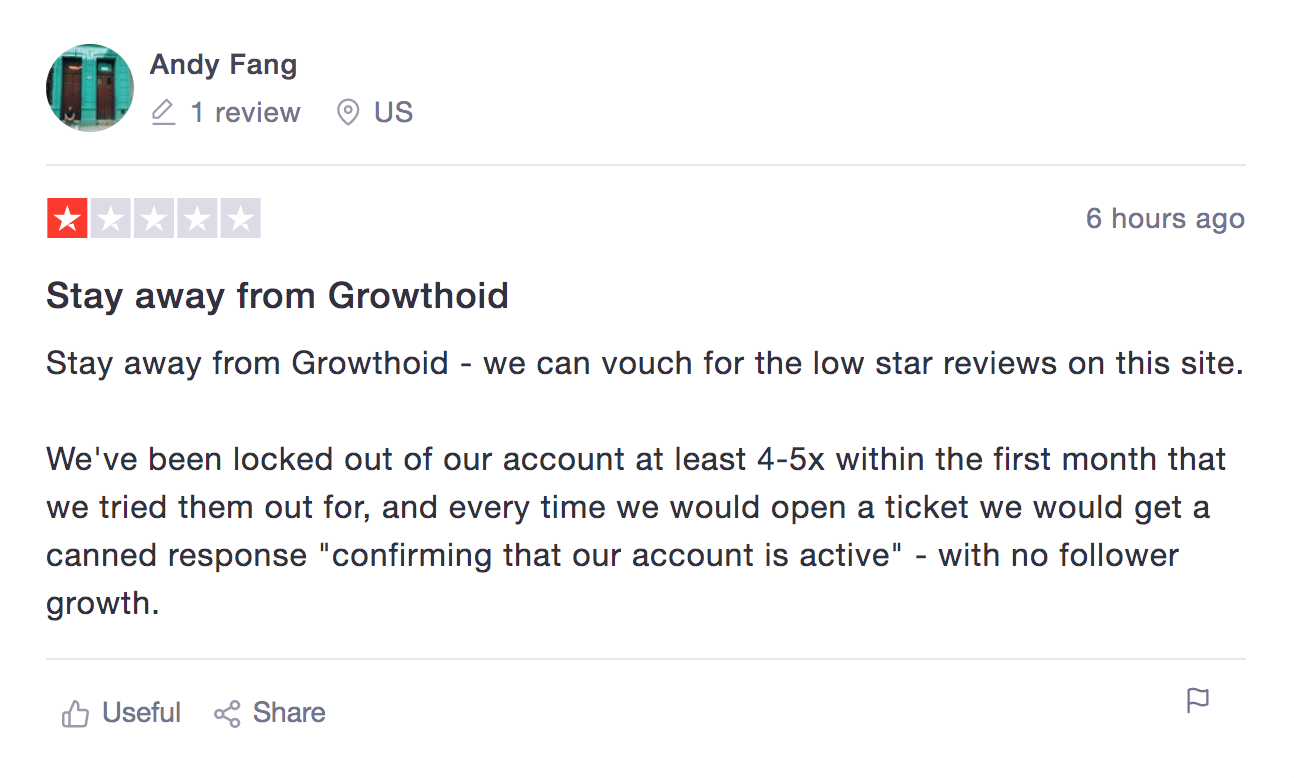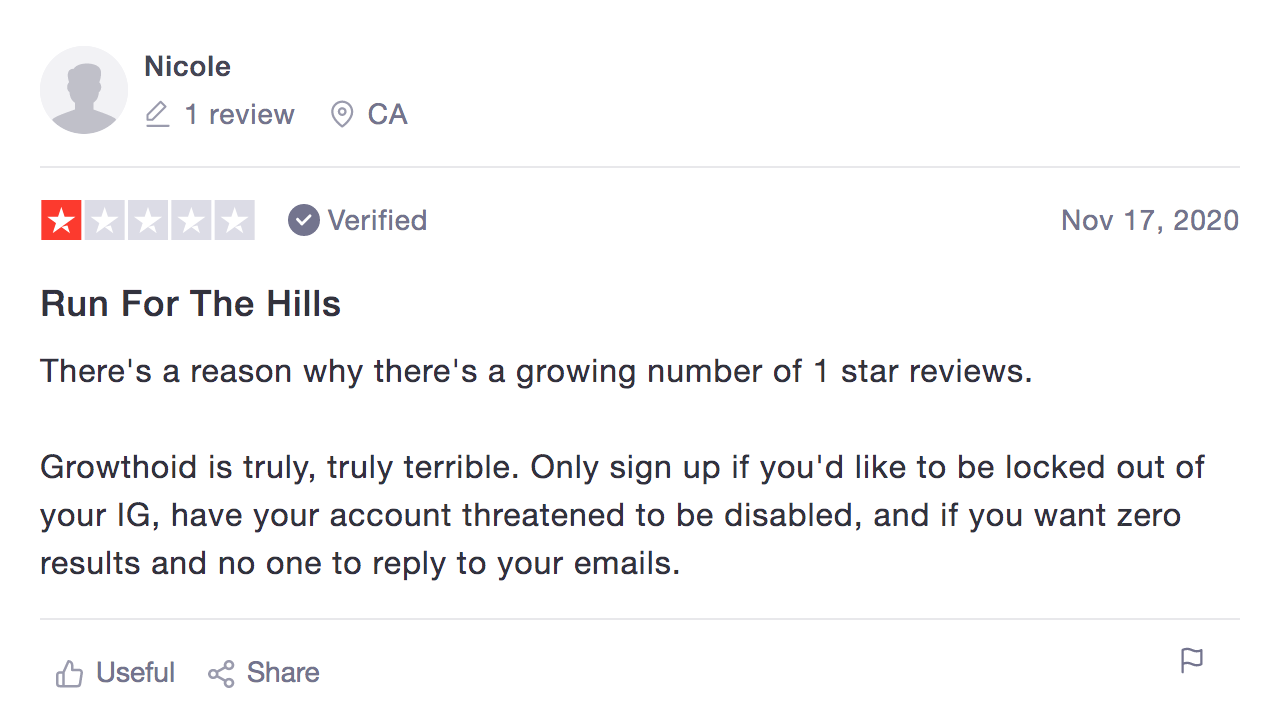 Also read: 7 Unsafe methods of growing an audience that you should NEVER use!
How is SocialPlus different?
SocialPlus has helped clients grow successfully on Instagram since 2011 and on YouTube since 2010. We only use the safest promotion methods, unlike most others. We will never ask for your login details to your social media accounts! Period. This guarantees that your account and content are safe.
Do you offer a free trial?
Unlike what these websites claim, we do offer a free trial for all new legitimate users, and have been doing so for a long time! Claim $5.00 free credits after signing up. No commitments!
With our $5 free trial offer available to all new, legitimate users, you can try us risk-free if you have any concerns about using our services. In fact, we are one of the very few companies in this sector to provide a free trial. Of course, no credit card is needed. Give us a try and decide for yourself.
Final words
In this industry, we are aware that it can be challenging to come across a reputable, reliable, and high-quality provider that won't scam you. To be completely honest, the only way to find a reliable provider is to test each service by yourself, independently of others biased opinions.
We look forward to working with you and helping you take your business or profile to the next level! 😉
To Your Success, The SocialPlus Team
This blog post was first created on Aug 8, 2021. Updated on March 23, 2023.