You can compare the importance of Instagram hashtags to such of keywords on Google Search. Hashtags are how people discover your content on Instagram. Here's a quick guide on how to analyze, and find relevant hashtags for your content.
If you are struggling to increase your organic outreach, meaning getting new people to discover your content - which is crucial for any brand or business to succeed in life, then there's probably a pretty good chance that you're not yet using hashtags.
In this blog post I will talk a little bit about why you should use hashtags when posting new content, and how to find relevant hashtags for your niche, thanks to this awesome tool developed by SocialPlus. More about that in the coming minutes.
The importance of hashtags
Unless you're a big and powerful personality, who can get on any TV show that you'd like, or pay big bucks for ads to promote your social media profiles, and thereby build organic outreach, and growth faster than any of us mortals, then there's a good chance that you know how difficult it can be to get new people to discover your content.
To understand the importance of using hashtags, or perhaps I should say, relevant hashtags - you can compare it to keywords on Google Search. How many times today have you searched for something on Google Search? Probably quite a few times already, right? The same goes for hashtags on Instagram. Hashtags are how users discover new interesting content, and profiles to follow. So if you aren't already using hashtags, now is the time to get started!
Example: Finding relevant hashtags
Let's say we have a cooking profile, which is pretty popular these days. We primarily publish new recipes, DIY ("Do it yourself") video posts of how the recipe is prepared, the ingredients and all that other delicious stuff.
Next day, we get the idea of making our favorite Thai dish, and share it with the world. We record the video, show how it's done and all that. Now it's time to upload it to Instagram - but wait, before you post it you need to find relevant hashtags, so that it will appear for users who are interested in Thai recipes.
Fortunately for you, SocialPlus has made this very easy for you. By using their Instagram Hashtag Generator tool, you can easily find popular, relevant hashtags for your content. I will show you how it's done.
1. Choose an option
You will be able to generate hashtag ideas from 3 different options. a) Keyword, b) Instagram post and c) Upload image. We will choose keyword, and because our content was about Thai food, it seems only right to use the keyword #thaifood.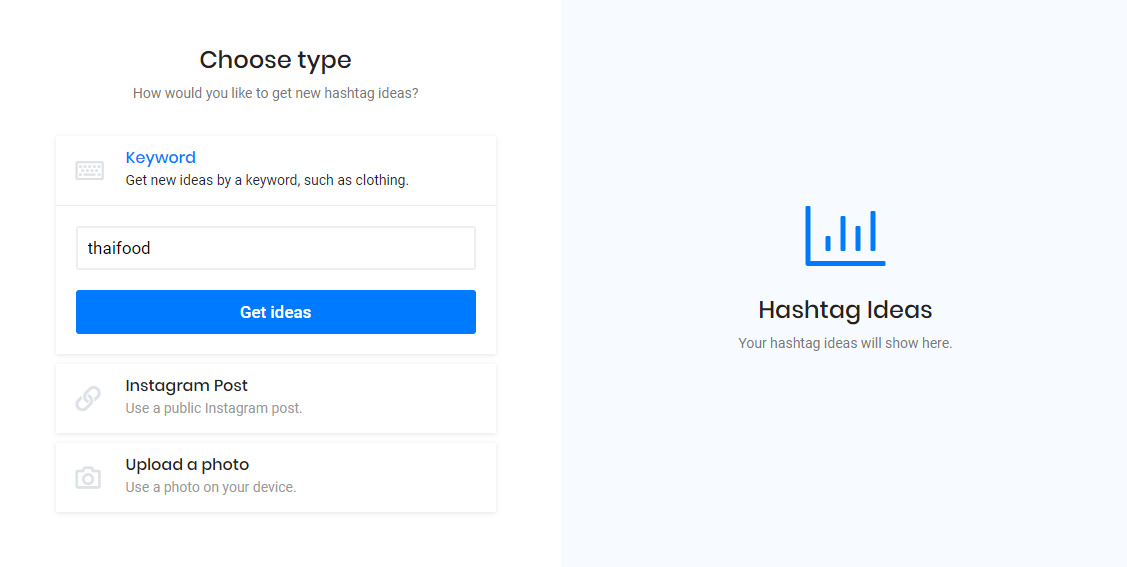 2. Find and select relevant hashtags
As you can see, we now have a list of relevant hashtags, sorted by their popularity. The popularity number shows the amount of posts under a certain hashtag, and gives you a good idea of how difficult it will be for you to rank in the top 6 featured posts - which is where you will be able to get a lot of organic outreach and engaged followers, if you manage to get up there. That's our goal right?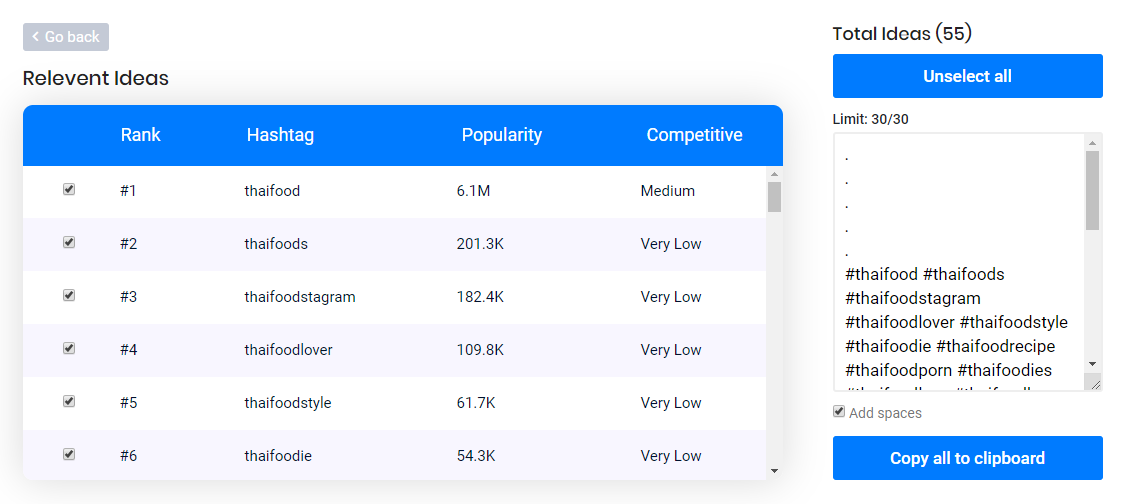 Another thing I like about this tool is that you can also add spaces, to seperate your post description from the hashtags. Once you have found relevant hashtags, simply select them and click "Copy to clipboard".
Should I use all 30 hashtags per post?
If you aren't already aware, you can only use 30 hashtags per post. Normally I try to use as many as I can, and I recommend doing the same. It doesn't hurt to have a few extra hashtags in there, but you should prioritize hashtags that are relevant to your content, to increase your odds of attracting new engaged followers.
How do I rank my content as featured?
First, make sure that you create high quality content, that viewers find helpful. This is how you will convert viewers into engaged followers, that can benefit your brand or business.
With that said, it can be difficult to reach the featured area under hashtags if you aren't already well known. By that I mean having a decent number of followers, and engagement. This is why most influencers choose to buy likes and views, to make their growth faster, and rank their content higher.
Make videos - they rank better
In this particular example, we posted a video on Instagram showing how to prepare our favorite Thai dish. From recent case studies, it has shown that videos are more likely to rank better than normal photos. So I highly recommend making videos as your content. My experience with ranking video posts has also been good by buying the Instagram views provided by SocialPlus. Normally I buy 50.000 views depending on the popularity of hashtags. This has helped me rank my content as featured many times.
That was all for this quick blog post. I hope you could use some of the information here.