Choosing the right service and promotion methods is crucial to keeping your Instagram account and content safe. Discover what types of services are safe to use, common myths – and the ones to stay away from.
Paid promotions are a cost effective and fast way to gain more exposure for your content and build up a following to establish social proof faster. When done right, this can result in the algorithm pushing your content to more targeted users who could convert to more engaged followers.
Unfortunately – for potential buyers – not all growth services for Instagram or YouTube understands what they are doing. This typically reflects on their cheap prices. Choosing the wrong service can have serious consequences for your account!
At SocialPlus we have over a decade of combined experience with ranking content and sustained growth on Instagram and YouTube. We only use the safest promotion methods – unlike most others. We will never ask for your login credentials to any of your social media account(s) – this is very important.
We can deliver our high-quality promotions to any publicly available profile. This is what makes our services safe to use, in contrast to most others on the market. Think of it like this: if Instagram banned accounts for buying engagement, you could simply buy these for your competitors.
The algorithm is more likely to push content with high engagement (popularity) to their users in feeds, searches and so on – than a post with 10 likes. However, a good content strategy is always needed.
Okay, so let's dive in to what kind of services that can put your Instagram account at risk, and how you can prevent that from happening.
Never share your login credentials
This might sound like a no-brainer, but believe it or not, people do sometimes decide to share their Instagram login details, in good faith, with complete strangers. Perhaps you have done it before yourself? Here is why you should NEVER EVER do that..!
There are lots of services and apps out there who has no idea of what they are doing. By using these services or apps, you could be putting your Instagram account at risk of being locked, or banned. We strongly recommend avoiding these services at all costs.
To name a few of the services asking for your login credentials, are: Growthoid, Stellation Media, Ingramer, Upleap, Ampfluence, Kicksta, FollowAdder, Nitreo and more. The same also goes for Unfollow apps. Anything that asks for your credentials are potentially harmful to your account. Keep this in mind.
These so-called "Growth services" requires your login credentials to work, which puts your account at risk. Don't believe us? Take a quick look at some of these services honest reviews on Trustpilot.
Growthoid reviews
These are customer service reviews for Growthoid. They will ask for your password and login credentials, which puts your account in danger, as mentioned above, and it clearly shows on their reviews.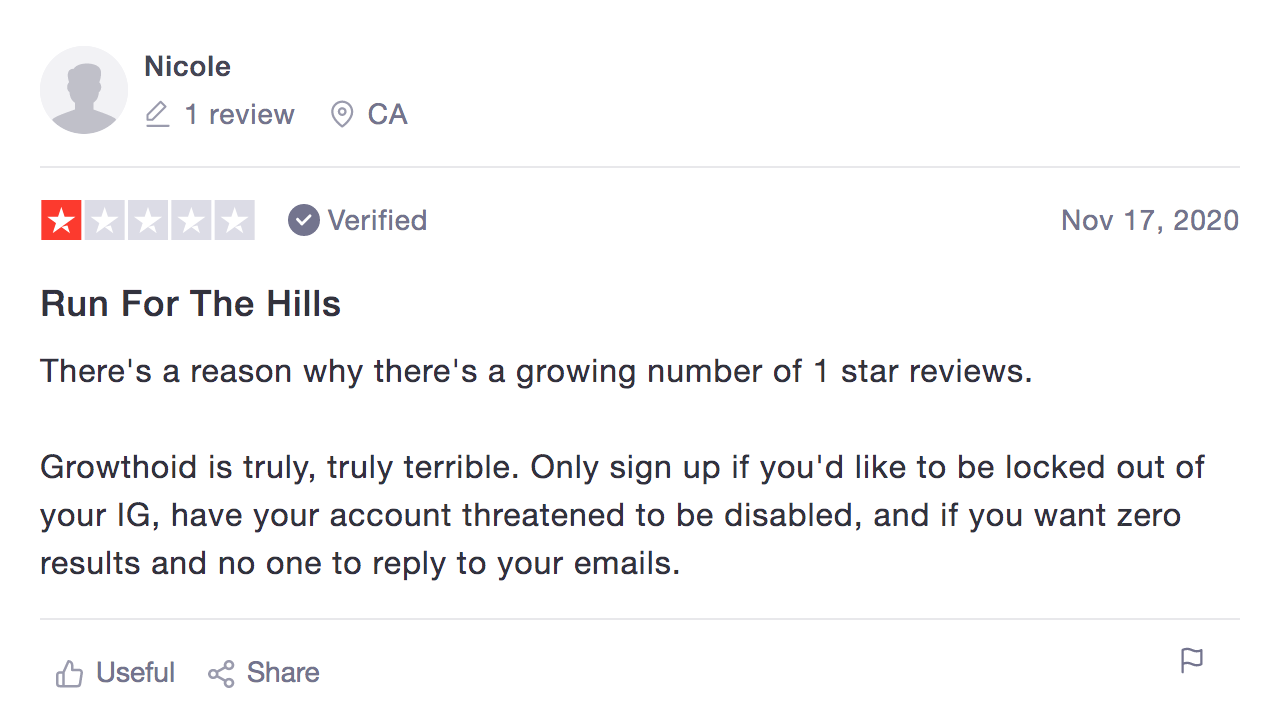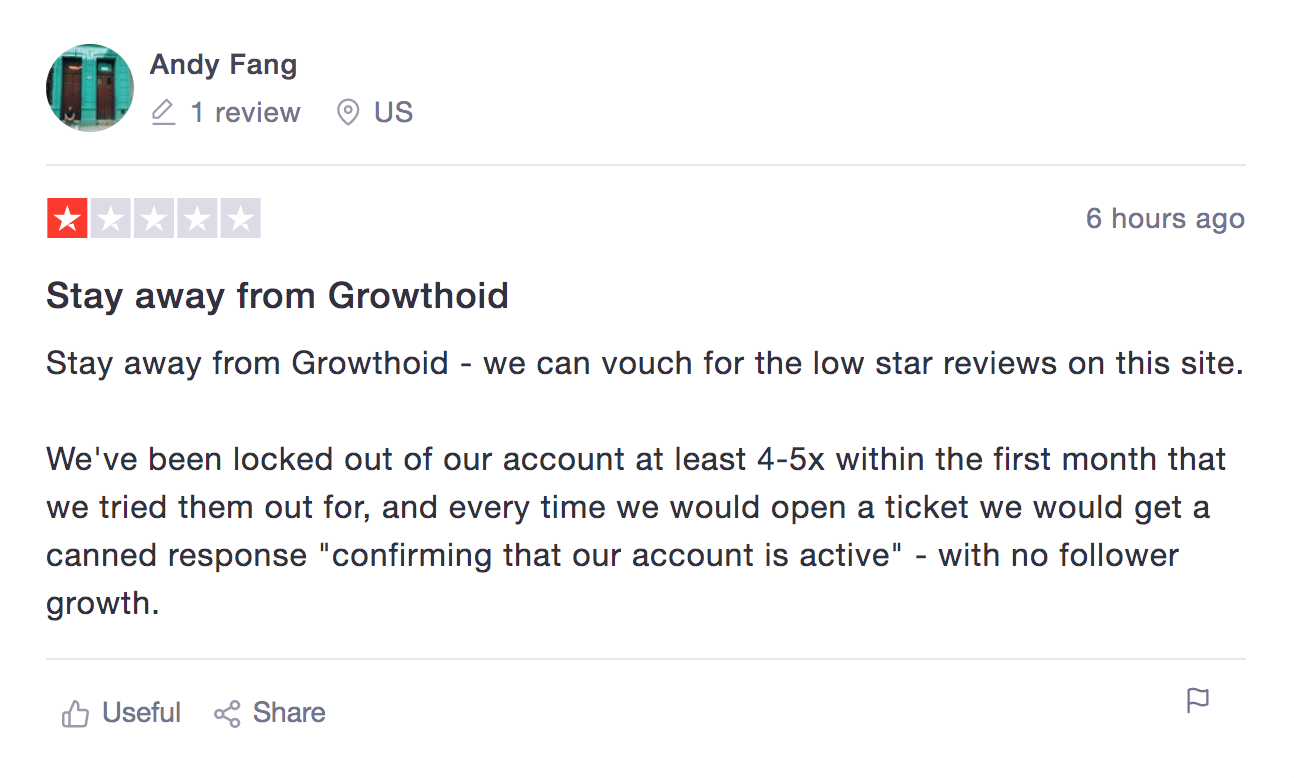 Interestingly enough, the owner behind Growthoid has created disinformation and fake reviews about their competitors, such as us, to promote Growthoid and others as "Top tools". We have exposed all the details in this blog post.
And the same story also repeats from other similar services, in this case Ingramer.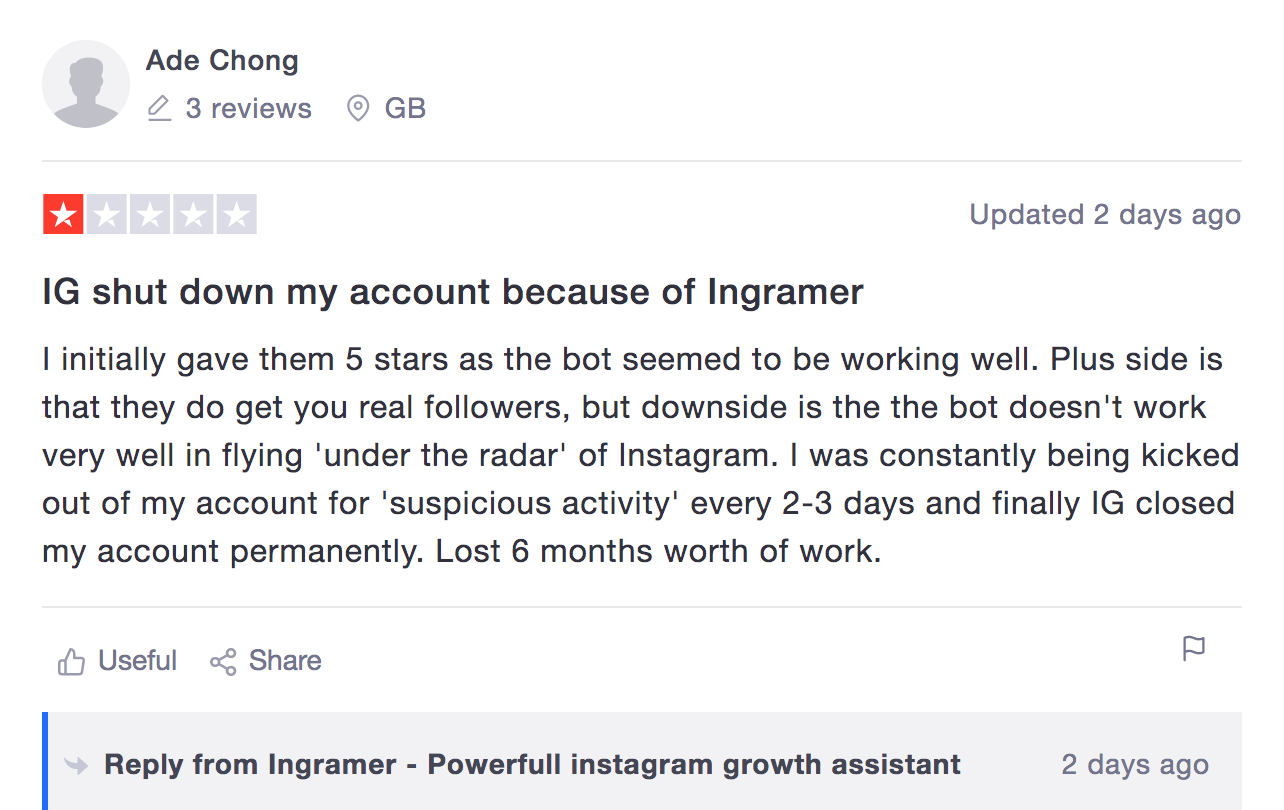 Lesson to learn?
A good and simple rule to follow is always: If someone asks for your Instagram login credentials, run away screaming! Okay, maybe not the screaming part, but you get the idea..
To make matters worse, these services often tell you, that their services are safe to use, and that real-human "account managers" will handle your growth for you.
The sad reality is that they use automated software ("also known as bots") to follow/unfollow, like and comment on others posts and accounts in your niche, on your behalf, or in other words, with YOUR Instagram account – this is why they need your login credentials.
Instagram can easily detect these automated tasks, and as it is your account violating their terms of use, Instagram can lock or ban your account entirely because of this in a blink of an eye.
SocialPlus to your rescue
At SocialPlus you can rest assured, knowing that we only use the safest promotion methods, to help boost your presence and build an audience faster. We will never ask for your login credentials!
Change your password & remove untrustworthy apps
Have you been using some of the previously mentioned services before, or given your password to an untrustworthy website, or app? Then you should seriously consider changing your Instagram password right away, and start looking for better options, who understands how to deliver safe promotions, and help you rank and grow an audience faster, without ever putting your account at risk.
Another thing you should also check for, is if you have allowed third party apps access to your Instagram account, these could be the popular "Unfollow apps", which also can put your account at risk, since you need to share your login credentials for these to work as well.
How to remove untrustworthy Instagram apps
Tired of seeing this?
If you have ever shared your login credentials with any of the previously-mentioned services, then there's a good chance, that you have already encountered this annoying message from Instagram before.
Did you know? When you use SocialPlus, you can say goodbye to these messages for good! We only use the safest promotions. Learn more below.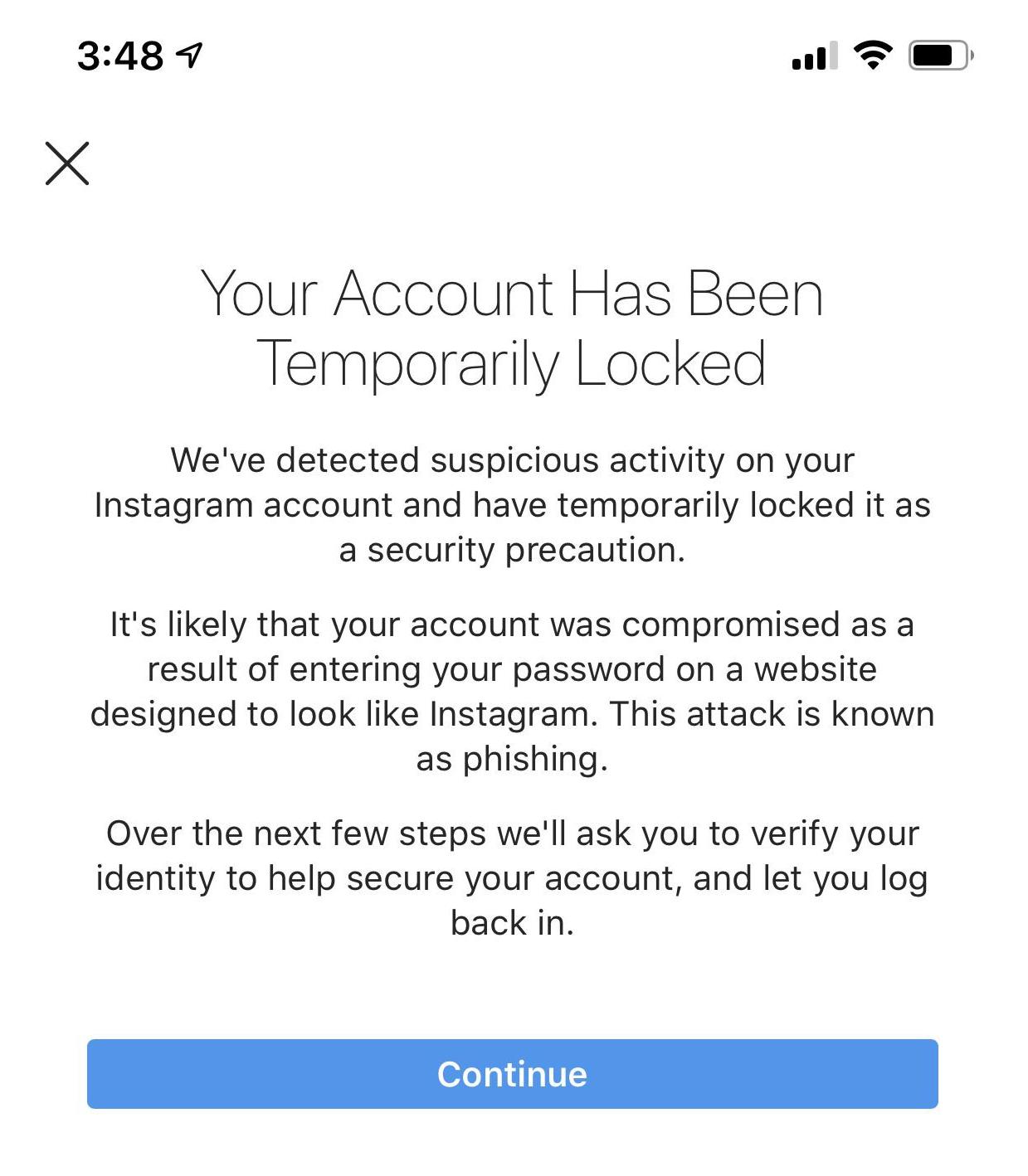 What makes SocialPlus different?
Our team has more than 10 years of experience combined, and have been involved with Instagram ever since its launch back in 2011. This means, that we have an extensive understanding of how their algorithms work, and how they have changed throughout the years. More importantly, the ranking, and growth factors that still matters today.
Rest assured knowing that you can safely use SocialPlus, without putting your account at any risks. We will never ask for your password, and we still provide high quality services, and marketing strategies from our experts, to help you grow your presence on Instagram and YouTube faster than you thought possible.
Make sure to read our strategies, insights and tips for ranking, and growing an audience on Instagram, which can help you understand how buying followers and likes can help you grow organically.
Try our free trial
At SocialPlus we offer a free trial for all new legitimate users. Get $5.00 free credits to test our services, without any commitments, or obligations! Simply register a free account, and reach out to our customer team, to claim the free credits to your SocialPlus account balance.
Also, feel free to check our customer reviews on our Trustpilot profile, to see the experiences of some of our clients.
We look forward to helping you increase your presence, and growing an audience much faster than you thought possible – using only safe promotions of course!
To Your Success,
The SocialPlus Team