Optimizing your video for search engines using your chosen keywords is essential. This lesson will guide you through the process of optimizing your video and boosting your click-through rate (CTR) on YouTube.
This article is part of our free YouTube Growth Course. In total, there are four lessons in this course. This is part 3.
SocialPlus: YouTube Growth Course
👉 You're here: Part 3. YouTube SEO 101: How To Boost Your Videos Search Ranking
So, you've done your keyword research and identified those with ranking potential for both beginners and experienced creators.
You've even created an engaging, top-quality video on the topic. Yay! 🥳
But hold on, don't hit that "Publish" button just yet.
Before unleashing your video upon the world, there's a crucial step: SEO optimization.
SEO, which stands for search engine optimization, is the key to helping both YouTube's algorithms and your audience understand your video's content.
When executed correctly, SEO can turbocharge your video's click-through rate (CTR) and supercharge its rankings and visibility in search results and feeds.
So, let's get into the nitty-gritty of SEO optimization.
What is YouTube SEO?
YouTube SEO, or YouTube Search Engine Optimization, is the practice of optimizing your video content to improve its visibility and ranking in YouTube's search results and recommendations.
It involves various strategies and techniques aimed at making your videos more discoverable to a broader audience on the platform.
YouTube SEO is essential for content creators who want to grow their channels, reach a wider audience, and increase their video's overall performance.
By effectively implementing YouTube SEO practices, you can enhance your video's chances of appearing in top search results, gaining more views, likes, comments, and subscribers.
In essence, YouTube SEO helps you tailor your video content to match the search intent of your target audience, making it easier for viewers to find and engage with your videos.
How to Optimize Videos for YouTube Search
It's a combination of optimizing various elements, including video titles, descriptions, tags, thumbnails, closed captions, and more, to align with relevant keywords and user preferences.
The ultimate goal of YouTube SEO is to make your content stand out, attract more organic traffic, and create a positive viewer experience that encourages longer watch times, higher engagement, and, ultimately, channel growth.
Below, we'll dive deeper into the key components of YouTube SEO and how you can effectively apply them to your videos.
1. Title of the Video
Your video's title carries significant weight in YouTube SEO. To optimize it effectively, ensure it aligns with your target keywords.
For instance, if you're aiming to rank for "public speaking for beginners," avoid titles like "stupidest mistakes when speaking publicly.mov."
That in itself would be a stupid mistake. 😅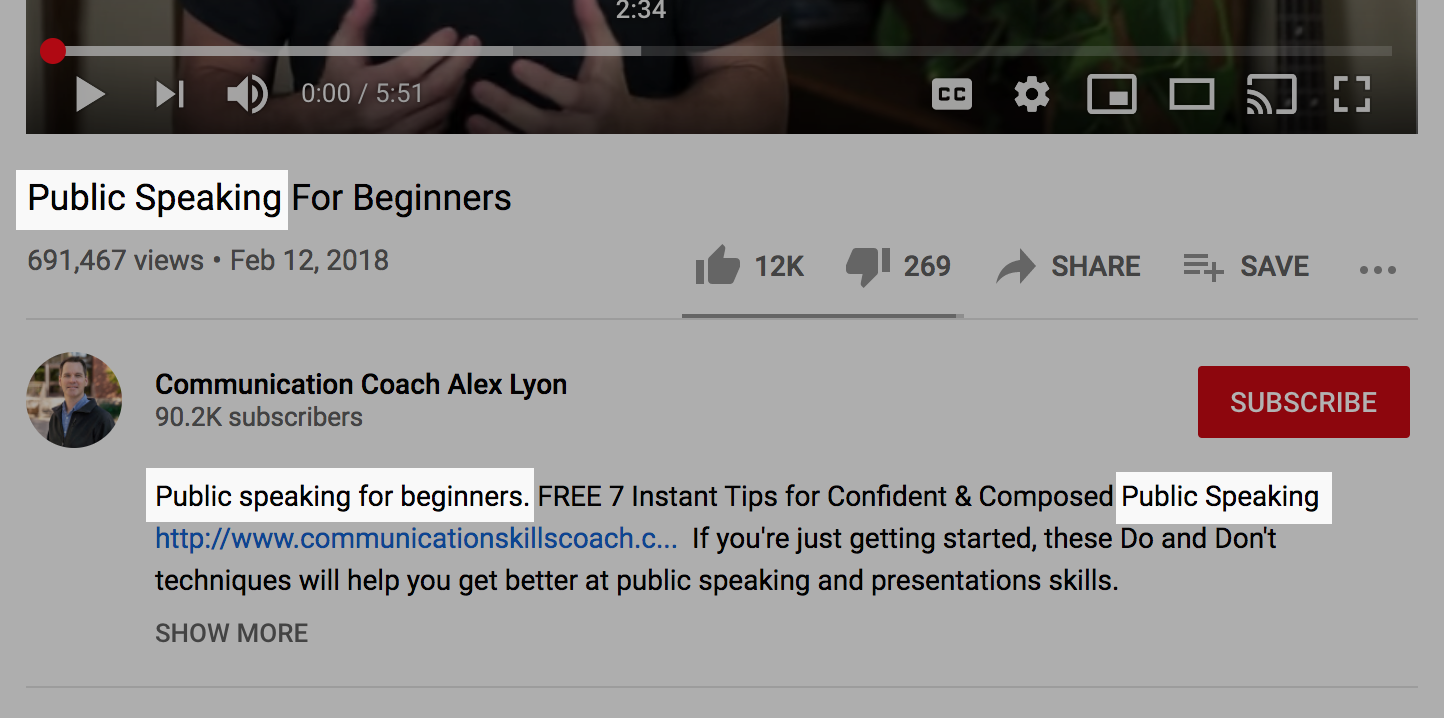 Here are some examples of well-optimized titles:
"Public Speaking For Beginners | Public Speaking Tips"
"Public Speaking For Beginners | How To Improve Public Speaking"
2. Description
Your video's description is another crucial element. To optimize it:
Include your primary and secondary keywords in the first 4-5 sentences.
Craft a unique description of 200-300 words for each video. This uniqueness helps search engines better understand your video's content.
Leverage the description to link to your website and other socials, potentially boosting sales.
3. Upload a Custom Thumbnail
Custom thumbnails are a game-changer for improving your click-through-rate (CTR).
They entice more viewers to click on your video.
Ensure your thumbnail stands out among the sea of other video results.
Look at the top-ranking videos. They all feature compelling thumbnails crafted to optimize click-through-rate.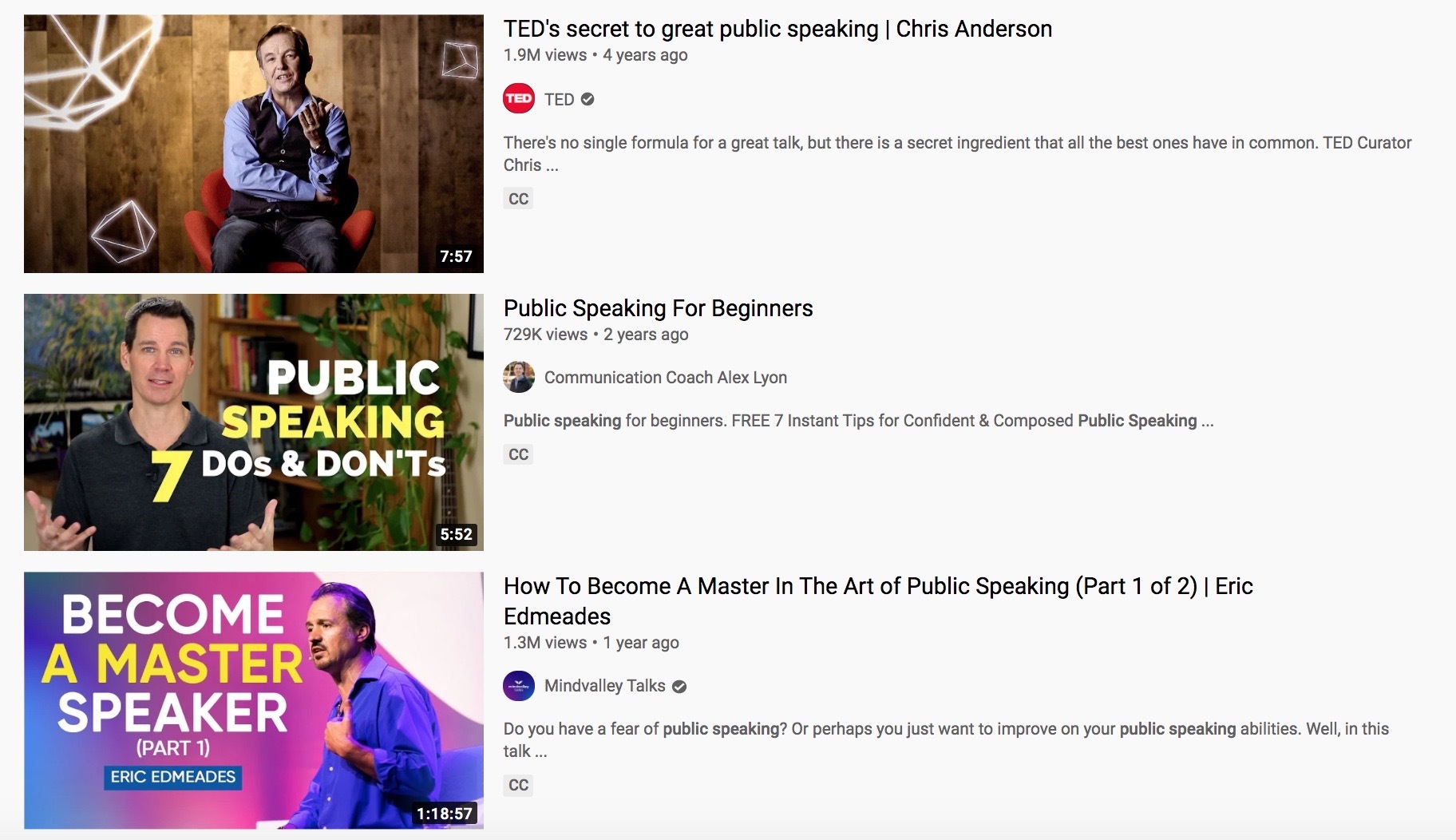 Creating an eye-catching thumbnail requires some basic editing skills, which are handy for YouTubers.
Please note that not all accounts have the option to upload custom thumbnails.
To unlock this feature, you need to verify your phone number on your YouTube account.
4. Use Targeted Tags
Adding relevant and popular tags in your video helps it appear as a recommended option on similar videos.
A common practice over the years has been to mimic the tags used by popular videos in your niche.
This practice increases the chances of your video showing up as "Up next" after viewers finish watching a video.

Apart from that, it has a limited impact on how YouTube comprehends your video and ranks it.
5. Captions
YouTube has been capable of generating captions for videos using artificial intelligence and machine learning for some time now.
However, it's still a good idea to upload your own captions.

This will display a "CC" label for your video in search results and improve the viewer experience.
Benefits of Adding Captions to Your YouTube Video
Adding captions to your YouTube videos not only makes your content more accessible but also has the potential to boost your video's discoverability, viewer retention, and engagement.
Here are some key benefits:
Improved Accessibility: Captions make your content more accessible to individuals with hearing impairments or those who prefer to watch videos with the sound off. This inclusivity can lead to a more diverse and engaged audience.
Better Understanding: Captions aid in clarifying spoken content, especially when the audio quality is less than optimal or the speaker has an accent. This ensures that viewers comprehend your message accurately.
Enhanced SEO: YouTube uses captions to understand the content of your video better, which can positively impact its search rankings. Including relevant keywords in your captions can improve your video's discoverability.
Increased Viewer Retention: Captions can help maintain audience retention, especially when viewers encounter unfamiliar words or phrases. This can contribute to longer watch times and improved video rankings.
Global Reach: By providing captions in different languages, you can reach a more global audience. This is particularly useful if you have an international viewership or want to expand your reach to non-English-speaking regions.
Engagement and Interaction: Captions can encourage viewers to engage with your video. They may pause or rewind to read captions, increasing interaction with your content.
It's a simple yet effective way to improve the overall quality and reach of your videos.
You're Making Progress! 😎🙌
Fantastic job! You've successfully completed the lesson on optimizing your video for search engines and enhancing its visibility in search results to boost your click-through rate (CTR).
Your video is now uploaded and ready for the world to see. Kudos!
Now, let's turn our attention to the final and possibly the most crucial lesson in our YouTube Growth Course: video promotion.
No matter how great your content is, it won't rank with zero views.
What's Up Next?
In the last lesson, we will look into various strategies for promoting your video.
There are two primary approaches:
Manual Promotion: This involves self-promotion, ideal if you already have a substantial network of potential viewers in your target audience.
Paid Promotions: We'll discuss paid promotion options, such as those available through SocialPlus. These strategies can help you gain the initial traction needed for quicker ranking while saving you valuable time.
So, get ready to supercharge your video's exposure and reach a wider audience in our next lesson.
SocialPlus: YouTube Growth Course
👉 You're here: Part 3. YouTube SEO 101: How To Boost Your Videos Search Ranking